Mathematics
Magical Maths

Week 1 (Tuesday 6th June)
The secret club has begun. This week the children met 'Olga' the Maths Genius who taught them the mind-blowing 'Squaring Trick'. By the end of the session, all of the children could square numbers in their head!
"I was taught to do things, I didn't think I could" reported Megan Winter.
Week 2 (Tuesday 13th June)
Guess My Age & The Chocolate Trick (The secret is revealed!)
Find out how in the Maths Detective Training Pack below: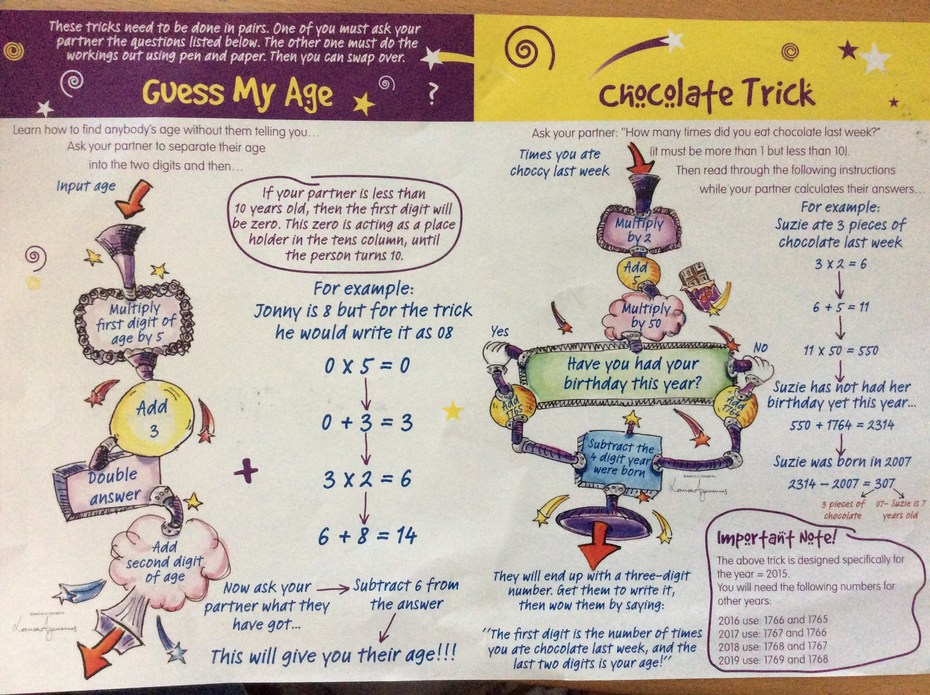 Magical Maths

Week 3 (Tuesday 20th June)
There was mind-reading, fun & games from a certain wizard called Potter, and our 'Maths Cauldron' game this week...
This week was another cracking week of magical maths. in fact, this week was PARTICULARLY magical, as we had a guest appearance from our very own Mathemagician. He had an amazing time with the children, and taught them some really exciting stuff!
The Magician Booklet
This week, the children did the Mathemagician Training Booklet. Here's what it looked like...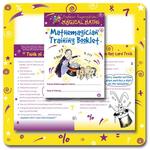 This booklet will train them how to perform some of the Mathemagian's maths tricks. It features some timeless classics such as 'Think of a Number' and the 'Answer out of a Hat Card Trick', and also our personal favourite 'Think of an Animal'.

Repetition, along with a bit of showmanship, are what the mathemagician prescribes for making these tricks super slick.
Maths WHIZZards
The second activity this week features some super fun 'maths showdowns' in our Maths WHIZZards game (based on a scene from a famous film about young whizzards!).
Children had to test their speed of calculations in this game.
We use different questions depending on age group, but fractions was the focus of the questions.
Magic Dice
A game featuring two 12-sided dice, and three 6-sided dice. The children get split into teams, and each team rolls their 12-sided dice to create their 'target'. Using the number they then roll from the 6-sided dice, children can use add, subtract, multiply, divide and even powers (for the older children) to equal their target. There's an opportunity for strategic thinking here, and problem solving - which is fantastic!

A magical week that's for certain, please let us know what you thought, we love to hear from you and we do read all emails.
P.S. - Next week we have a visit from the Olympic Mathletes to do some sports and games. No P.E. kit necessary, but an Olympian attitude DEFINITELY is!
Week 4 (Tuesday 27th June)
This week was Mathletics week which meant our Olympic Mathletes were at your school. We had a parachute, some beach balls and even some football. It was an unbelievable week!
This week everything was sports related as we took our maths adventures to a whole new level! Our Olympic Mathletes came dressed in their sports gear...these guys are so sporty they make Jess Ennis and Mo Farah look like a pair of pensioners who brought stilettos instead of trainers to a work-out!

Here's what the children did:
Parachute Games
After hearing "parachute games", the children were very relieved to find out they weren't going to be jumping out of a plane this week. (Our 'Magical Maths Plane' is currently undergoing repairs...maybe next time!)

Rather, they'd be holding an edge of our giant parachute and answering maths related questions.

We have many activities that we play with this. The first is numbering the children with certain numbers (these can be small if we want an easier game, or larger for a harder game). We then ask the group questions, and if your number is the answer you must run under the parachute to the other side!

We then add in large foamy dice to make things more interesting, and play a 'number patterns' game where we number the children in a pattern, they close their eyes while one child goes under the parachute, and when they open them they decide as a group which number is missing.

We have quite a variety of activities to make sure they are appropriate for each year group.

Great stuff!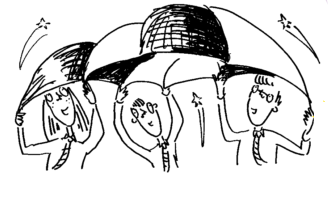 Beach Ball Maths
Standing in a circle, a beach ball is thrown into the air. Children must catch it, and then see where their thumbs land on the ball. There are different numbered regions on the ball, so the activity leader will then shout an instruction and the child must answer it.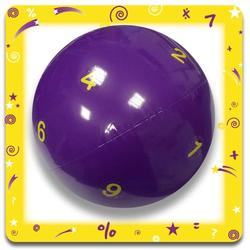 It could be as simple as "add your numbers together"

or, it could be harder "multiply your numbers together, and subtract the number of legs on a cow"

or, perhaps "subtract your numbers, and name a shape with that many sides"

As always, questions are appropriate for all ages. Reception children get more basic questions than the year twos, and Key Stage 2 get different questions again.
Goal
We had a (foot)ball with this game today! The children have to split into pairs to play a football based board game against each other. They pick teams, roll the dice and have to solve the sum given to them in the top corner of their board. Each correct answer gets them closer to their opponent's goal...and they player with the most goals at the end wins.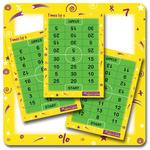 Key Stage 2's must recall and use multiplication facts for the times tables up to 12x12. For those mini maths genius', we have goal boards with multiples of 13, 15, 20 and 50.
It was a tense game for each year group, but our final winners did mathemagically well. Well done guys!

It was an absolutely cracking week this week. Only problem is, we're aching now...they wore us out!

Week 5 (Tuesday 4th July)
This week we had some Mind Boggling puzzles and superfun games. These things can be so tricky that we had more than a few students asking "is this even possible?!?!"...
They definitely are though. You just have to do a bit of 'Magical Maths' thinking. Here's the lowdown...
Mind Boggling Puzzles Booklet
This week, the Key Stage twos did a puzzles booklet. There is a VERY good reason why we call these mind boggling puzzles. They're capable of boggling even the most capable of minds. Luckily we made sure all Key Stage twos could do them before leaving, hopefully they've boggled you with them (sorry about that). Here's the booklet, as always let us know if you'd like us to get another one of these to you...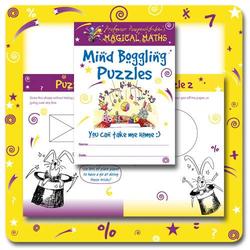 Number Chaos
An all-time Magical Maths favourite...our second activity this week was number chaos. We loooooooove this game.

It features two teams who each have to hold a double sided, numbered card. Our activity leader shouts out a sum, and the team have to race to lay their cards out on the floor with the correct answer.

It's tough, it's tense but most of all it's mega fun. It's also perfect for adding in the harder questions to stretch and challenge Key Stage twos, whilst also working really well for Key Stage ones as well.

We really enjoyed number chaos this time round!
Puzzle Sheets
We ended the week with some puzzle sheets. These sheets are specially designed to match the curriculum (as are all of our activities), and to make children think and expand their mathematical abilities. They still follow the theme of fun, but will definitely challenge them and teach them something new.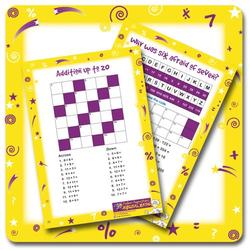 Week 6 (Tuesday 11th July)
A message from Professor Poopenshtinken:
Well there we go, today was the last day of our "Magical Maths Training" sessions.

We've got some pretty sad looking Magical Maths leaders here at HQ...I think they've enjoyed being at your school.
I really, really hope that the children have had as much fun as we've had working with them! Could I just ask if you could give me an email back with your feedback from the club? What did you and the children think? Please let us know as we love reading your emails. We also take feedback very seriously...it helps us to keep providing the best clubs and making sure they provide more and more value for parents and students.
Look forward to reading your responses,
Professor Poopenshtinken's Magical Maths
Magical Maths invite you to join our secret club!
Magical Maths is a 6 week club where you can meet some crazy and wonderful characters and learn some truly mind-blowing Maths tricks. You will learn how to calculate impossible numbers in your head, read minds, play Maths sport and solve unbelievable puzzles...all with the power of Maths.
Each week will have a fun theme-here is a special sneak peek at the first four weeks:
Week One: Meet the Maths Genius

Week Two: Become a Maths Detective

Week Three: Become a Mathemagician

Week Four: Olympic Mathletics
So come along and join in, it won't be the same without you.
Signing up is super easy, just go to:
Fill out the form and pay. Your session dates are all published there. You can also book on the phone by calling
01380 888 060
Cost is £42 for the entire 6 weeks.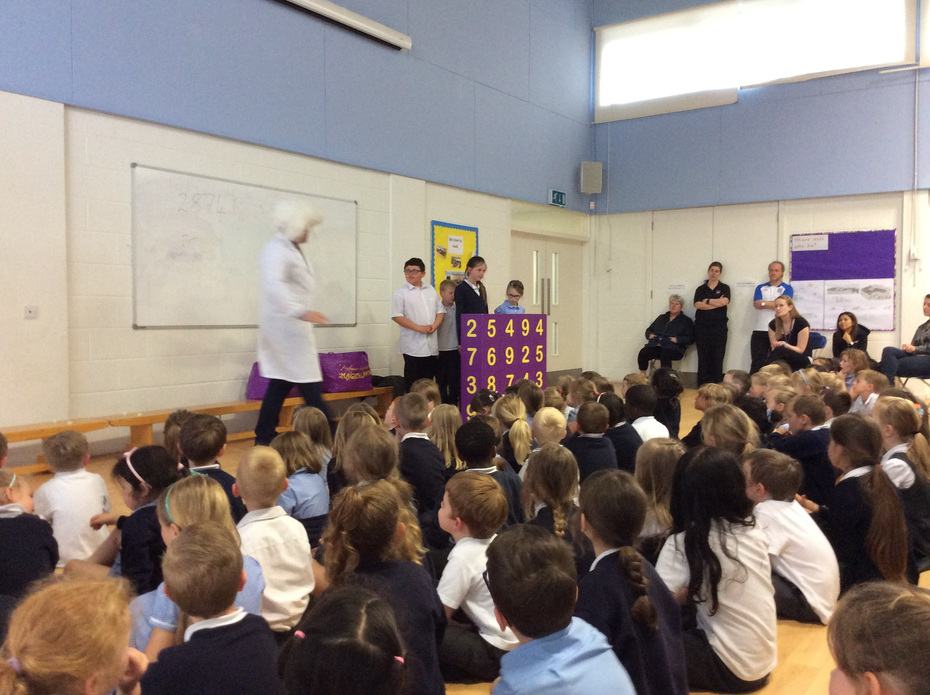 Welcome to Mrs Menzies, Numbers Count Lead teacher who will be working in school throughout terms 5 and 6. Mrs Menzies will deliver the intervention programme 'Numbers Count' to a number of children in both KS1/2 who will benefit from additional support in Mathematics. The programme will involve 4, 30-40 minute sessions a week (Mon-Thurs) in addition to the normal Mathematics lessons.
Results have shown that children who complete the programme, make substantial progress and begin to 'bridge the gap' between where they are now and where they should be.
We are very fortunate to have Mrs Menzies expertise and look forward to working with her.
Marvellous Maths
Open Afternoon
Class doors were open from 2.30 on Tuesday 18th October 2016 for parents/guardians to observe children's maths knowledge and expertise. The children enjoyed showing visitors the mathematic problem solving activities and games used in classrooms to support them in mental recall of number facts.
At 3.15 teachers demonstrated the calculations strategies taught for each of the four operations in each year group.
Parent involvement and response was particularly positive and we look forward to continuing to develop supportive relationships between teachers and their families.
Parents commented on the use of classroom resources and displays to support learning. The afternoon was gratefully received by parents. " Thank you for a really helpful and informative afternoon."
Thank you for all your positive comments and acknowledgement of the great learning and fun staff and pupils are engaged in throughout the school. We've taken on board your comments and will run the event next year with different days for different age groups.
| Name | |
| --- | --- |
| Mathematics Long Term Plan (Reception).pdf | Download |
| Mathematics Long Term Plan (Year 1).pdf | Download |
| Mathematics Long Term Plan (Year 2).pdf | Download |
| Mathematics Long Term Plan (Year 3).pdf | Download |
| Mathematics Long Term Plan (Year 4).pdf | Download |
| Mathematics Long Term Plan (Year 5).pdf | Download |
| Mathematics Long Term Plan (Year 6).pdf | Download |
Showing 1-7 of 7