Being active at Old Sarum Primary!
Term 2 - week 5 - 5/12/19
Santa Dash!
Probably the most anticipated event of the year following the success of the Rainbow Shower last year! Children and teachers had a great time being civered in flower whilst running around an incredibly muddy track dressed in matching Santa suits!
Introducing our sports captains for the year:
They are hopefully looking at getting some house tournaments set up amongst the year groups, potentially running some clubs and teams and getting involved with the school council.
Term 2 week 3 - 22/11/19
This week we sent four children to take part in Boccia, one of our teams managed to come 3rd and have been invited to take part in the finals!
Term 2 week 2 - 15/11/19
Today we sent our play leaders along with Mrs Roberts to St Edmunds to take part in the bronze young ambassadors training. Really looking forward to all the new games and skills the team will be bringing to our playground.
Term 2 week 1 - 6/11/19
The netball trip was good fun and was the first time that some of the children had played together! We even managed to score one place higher than last year!
Term 1 week 7 - 16/10/19
Its been a busy week here in Old Sarum with the lower key stage 2 football tournament and the election of our sports captains! Check out the photos from the football below!
Term 1 week 6 - 9/10/19
Lots of fun was had at the tri-golf this week, the years 4 and 5 children were practising their skriking skills and luckily managed to avoid the showers!
Term 1 week 4 - 25/9/19
Skipping!
This week we've been really lucky to be able to get involved with skipping workshops. Lots of fun was had by all the children and lots of new skills learnt :) Check out the pictures and the video below!
Term 1 week 2 - 18/9/19
The new year has started for the children at Old Sarum Primary school and with that comes to ever anticipated school sports fixtures, new activities, clubs and lots of other fun physical activties! This year I am very excited to announce the our advertisement for sports capatins - KS2 children will have the opportunity to have their say about what they would like to see at Old Sarum and have the chance to plan and run their own clubs and golden times!
If you fancy becoming an Old Sarum sports captain write Miss Townsend a letter explaining why you would make a great sports captain!
Closing date Monday 30th September.
Term 6 Week 1 - June 2019
Rainbow Shower event ...
On Thursday a group of children along with Miss Townsend, Miss Witten, Mrs Butler and Mrs Thorne went along to Lavington School in Devizes to take part in the Rainbow Dash! This involved all of us running around a course and having paint thrown at us - it was a fantastic day enjoyed by all, the children loved that day and even got a medal and to keep their tshirts at the end.
Term 2 week 4 and 5 - November - December 2018
PE
Unfortunately due to the time of the year and the inevitable poor weather, our sports trips were cancelled during this time. However, during the fleeting moments of good weather Miss Moore captured some great pictures of her children learning tag rugby with our coach Mr Hamilton! through muddy fields and sideways winds the school continued on with our PE lessons (where possible!)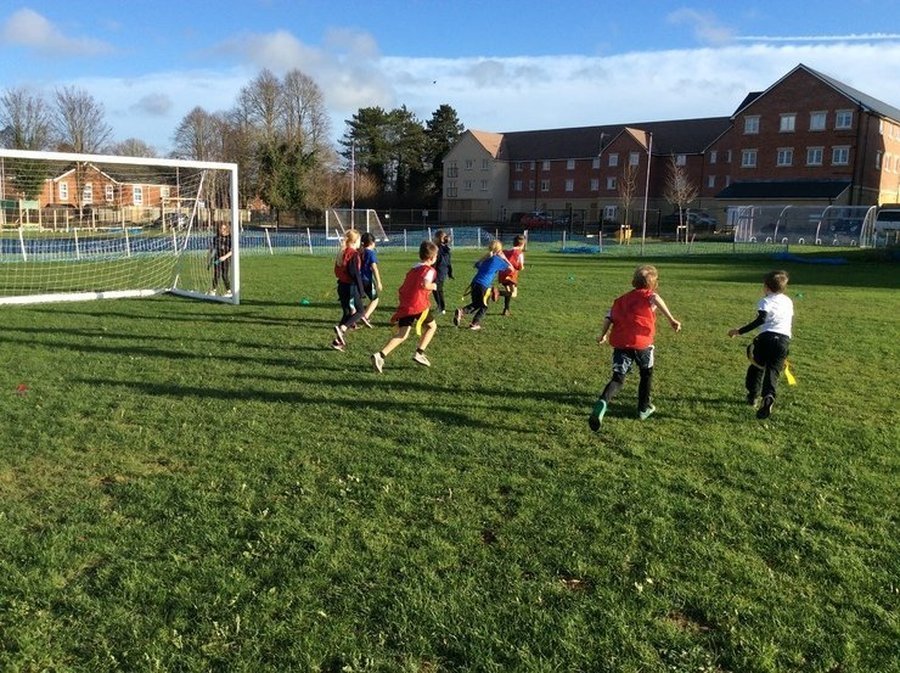 Term 2 week 3 - November 2018
Boccia
This week a team of selected children went to 5 rivers leisure centre to take part in the annual schools' boccia competition. Mrs Butler was very impressed wth how respectful our children were - congratualting the other teams on their successes. Well done team!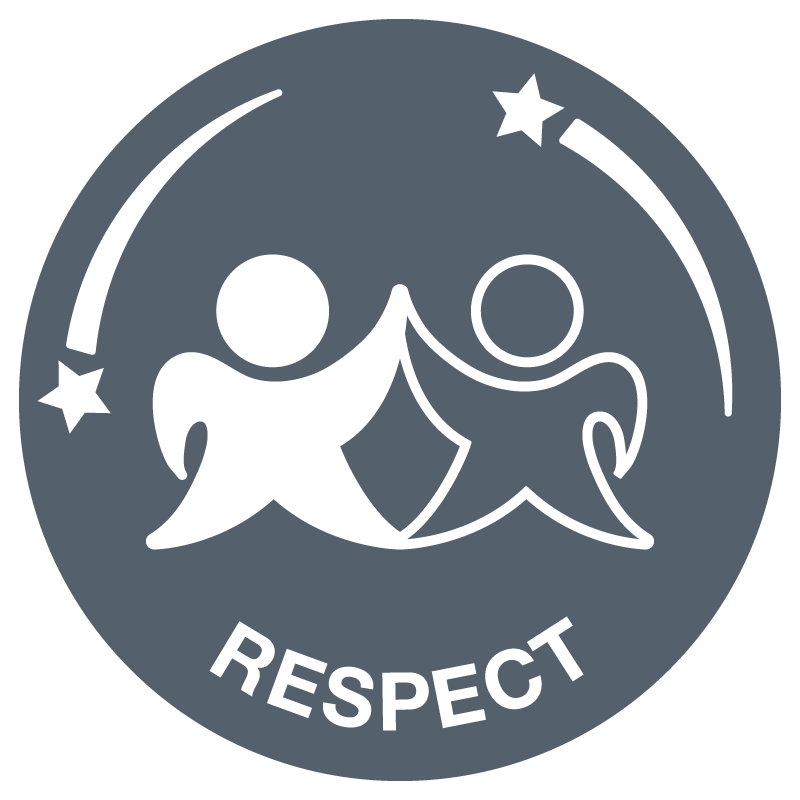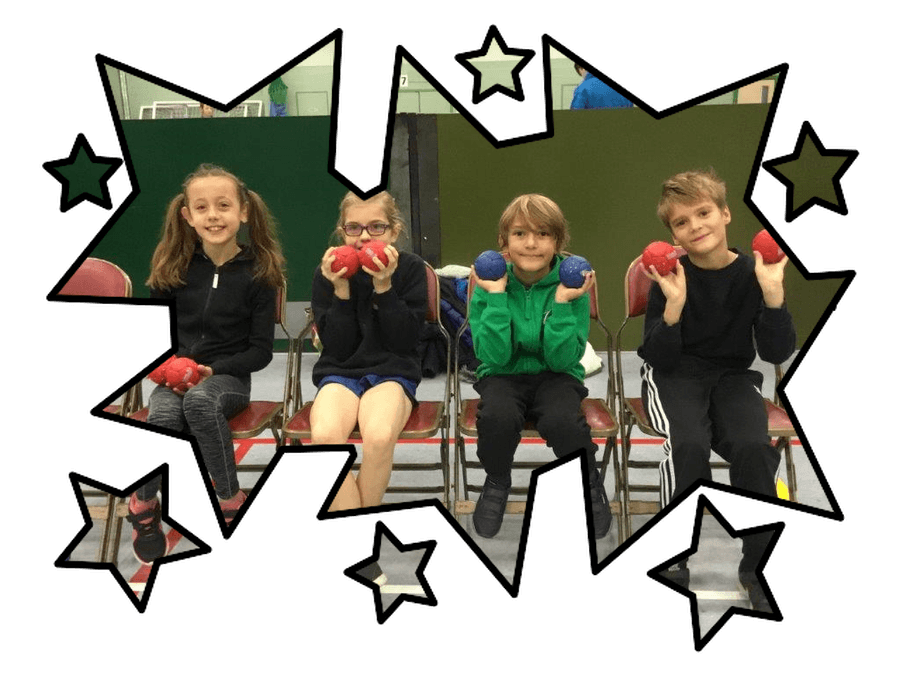 Term 2 week 2 - November 2018
Bronze Young Ambassador training:
This week has been a huge achievement in terms of school sports and keeping active. Five very well deserved children were selected to attend the bronze young ambassadors training this week enabling them to lead games and sports within our school. Lots of fun was had on the day, learning lots of new and exciting playground games to keep our busy children entertained! The year 5 girls did a fantastic job representing our school and I really look forward to seeing the skills and knowledge they are going to bring to our school! Definitiely displayed all of our school games values! Watch this space!
Term 2 week 1 - November 2018
It has been an interesting week for our school sports - what with the terrible weather and the inevitable cancellations. Unfortunately the Netball had to be rescheduled due to the weather until the end of the month, the children were very understanding and just gives us that extra time to practise!
Orienteering:
The orienteering did however manage to go ahead! The children were off and about their courses, when what should happen? The skies opened and it poured - heavily! Miss Sharp sent off 12 buddding map readers and back she got 12 soggy drowned children - this did not however dampen their spirits which really showed their passion for what they were doing! Well done team - a little rain did not deter us!
Year 4/5 Tri Golf - October 2018
On Wednesday, year 4 and 5 went to Cedars Golf Course to take part in a Tri-golf competition against other Salisbury schools. The children played 8 different holes all with different obstacles. We practised hitting balls into various targets as well as chipping balls into targets off of the ground. Many children found skill in a new sport and an enjoyable day was had by all.
Year 5/6 Mixed Football - October 2018
Our first fixture of the year went off with a bang, the years 5 and 6s played really well toegther as a team and really represented the school well. They came up against some difficult competition but perservered throughout! Lots of goals were scored and some INCREDIBLE saves from our goalie! It was a very proud moment being able to over hear the other schools commenting on how good our saves were! Oh and Miss Townsend got herself a sunburn in October! Achievements all round!
Quad Kids Year 3 &4 - June 2018
Another hot day but the children were commited to taking part in all aspects of the Quad kids event. Our team of 10 showed passion and commitment in each of the events with a number of successes such as 1st place in the 400m run. I was delighted to see every child trying their best and was impressed with their refusal to give up. They should feel very proud of their certificates and I look forward to hearing some of their highlights as they share them with the rest of the school in our celebration assembly.
Quad Kids Years 5 & 6 - June 2018
Quad kids is inclusive of four sporting events: throwing, long jump, running and the relay race. Our team of 10 did an excellent job taking part in all of the events. The children took part in a sprint flat race before completing the 600m run, this was recognised as the biggest challenge of the day by the team. The children were particuarly proud of their standing long jump and distance throws, which they celebrated with a floss on occasion! I hope that they will be able to share this knowlewdge with other pupils before our school sports day. Their ceritficates of participation are well deserved and I look forward to seeing these being awarded in assembly.
Tennis - Key Stage 2 - June 2018
Our Year 3 tennis team enjoyed an exciting day of tennis at the local club, playing in a tournament against other primary schools. Miss Pepperell was impressed by the determination and participation of all the children on a particuarly warm day and was very proud of the spirit in which they supported all who took part in the event. Well done to all!
Kurling - 16th March 2018 - Key Stage 2
Our Kurling team took part in the finals competition in Wiltshire. The boys continued to enjoy this experience and will find out their position within the league once it has been confirmed. They won many of their league games and demonstrated our core principles when taking part in competitive games. We cant wait to see their new Kurling t-shirts. Well done!
School Games Tournament - 16th March 2018 - Key Stage 2
Today we had a busy day of sports taking part in the School Games Tournament. We had three teams competing at this event including netball, skittleball and football. The children were all praised by their teachers for their excellent teamwork and passion, just some of our School Games Value. The netball team won one of their matches and demonstrated good sportsmanship. The skittleball team were determined and very successful achieving second place overall. The football team played four excellent games showing their strength defensively whilst 4 players went on to score goals. Well done to all those who took part, you were such positive representatives for the school.
Gymnastics Competition - 14th March 2018 - Key Stage 2
A group of 6 gymnasts took part in a school master class session from a gymnastics specialist prior to competing in a gymnastics competition. The girls preformed individual floor routines which included many elements and an individual vault. It was lovely to see them excited and full of self belief when they returned to school wearing their very impressive bronze medals!
Gymnastics Festival - 22nd February 2018 - Key Stage 2
A Year 3 and 4 group took part in a gymnastics festival today. This was not a competitive occasion, so allowed the children to learn new skills alongside their peers. The children demonstrated the School Games Values of passion and determination throughout the event which resulted in some children attending a gymnastics master class in school.
Orienteering - 2nd February 2018 - Key Stage 2
The children worked in pairs and used their map reading skills to work out which controls to go to, in the correct order, at pace. They worked reciprocally, and were very speedy in finding their routes using the School Games Value odteamwork. Lots of fun was had by all.
Kurling - 24th January 2018 - Key Stage 2
On 24th January, two teams took part in a Kurling competition at St Edmunds school. They learnt new skills and continued to develop their abilities as leaders and team players, elements of the School Games Values. The children felt very successful following the tournament and enjoyed scoring points by rolling the discs into the target circles. Team 2 came second overall and will play in the final. We wish them the best of luck!
Match Reports
Year 3 and 4 Football
On Wednesday morning some year 3 and year 4 pupils from Old Sarum Primary School along with nine other schools from around the area took part in a football tournament organised by St Edmund's Girls' School. Unfortunately we didn't manage to place in the top 3 despite Ethan scoring 10 cracking goals and some fantastic saves by Nadia. The morning was enjoyed by all and Mrs Tubbs was impressed by the overall team performance, particularly their sportsmanship.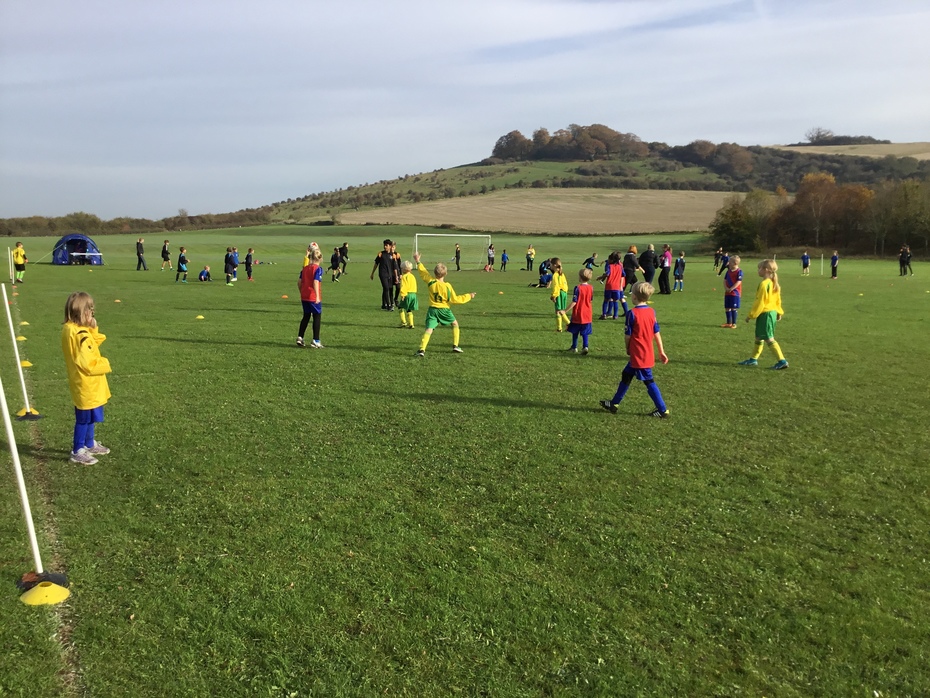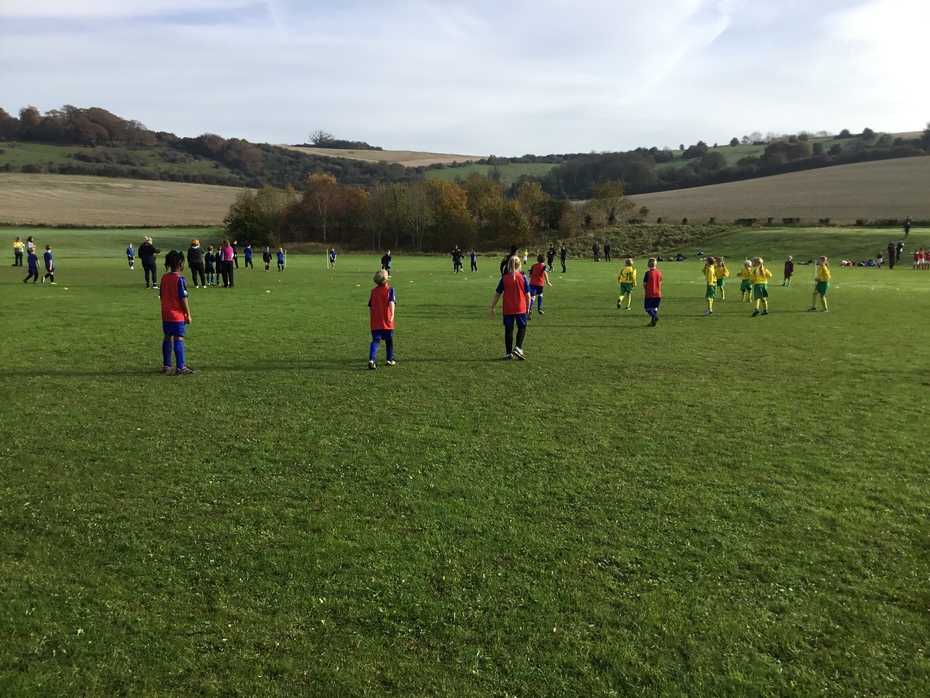 Sainsbury School Games
Katlin Winter represented our School in Marlborough on Wednesday 8th July, where she presented her flag in the opening ceremony. She designed her flag and won the competition back in March. The flag looked fantastic and it displayed the school game value of 'honesty'. She also got the opportunity to spectate in a range of other sporting events such as trampolining, gymnastics and table tennis. It was a great morning with a fantastic atmosphere. Well done Katlin!
area sports
Children from year 5 and 6 participated on Wednesday 8th July. They had a fantastic time, competing in many different competitions against lots of other schools.
The children did exceptionally well with many of them reaching the finals in their event. They all showed great resilience and effort!
Josh Green came 3rd in his final. He stood on the podium and was presented with a certificate and medal! Well done!
Sports morning
Sports events
On Monday 20
th
premier sports will be hosting a fun morning of different sporting activities for some of the classes.
Year 1: multi skills
Year 2: advanced multi-skills
Year 3: fencing
Year 5: fencing
In September, it may be that premier sports will continue these activities and many more, as lunch time and after school clubs. We look forward to the taster sessions!
Wimbledon
Wimbledon 2015
On Wednesday 1
st
July, 8 children accompanied Miss Adkins and Miss James to Wimbledon. It was a glorious day and the children were fantastic. They were very excited about the day and although they had a very early start they were able to last all day and were still full of enthusiasm when they returned. They children watched a variety of tennis games, both singles and doubles and both men and women. They were learning the scoring system and the rules of the game.
Small School Tournament
On Friday 20th March, 38 of our pupils from Years 3 – 6 took part in the Small Schools Games Tournament at St Andrews School in Laverstock. We sent 4 teams to compete in netball, skittleball and 2 different aged teams for football. All teams played fantastically well and our achievements were outstanding in all sports! Our skittleball team came 1st out of approximately 20 teams and our netball team came 2nd against Bemerton St John Primary School. We are now the proud owners of several trophies which will be on display in the trophy cabinet in school. Well done to all who took part.
Tag Rugby
Tag Rugby- Tuesday 15/9/15
Children in year 5 and 6 took part in a Tag Rugby Festival at The Salisbury Rugby club. The children thoroughly enjoyed the day; taking part in a range of different rugby skills; such as kicking, tag and passing skills. The children competed in many games and showed great sportsmanship. Well done!
Tag Rugby
Year 5/6 children went to a Tag Rugby festival at Bishops School, they played extremely well in their division table, coming fourth. They went through to play more teams in the afternoon and overall Old Sarum School came 14th out of the 26 schools. Well done!
Cross Country
Children from Year 5 and 6, braved the cold conditions to take part in a cross country run. They competed against other schools in the Salisbury area and although cold, they did very well! They ran the 'Mini Marathon' course behind St Edmunds Girls' School in Laverstock. We only had one boy compete so well done to Michael in Year 5 and well done to our girls as they came 2nd place in the group competition.
Fundamentals
The year 1 children took part in a 'Fundamentals' tournament this involved a range of multi-skills activities focussing on co-ordination, team work, reaction, speed and agility, which were led by the Sports leaders at St Edmunds Girls school. The children enjoyed the day and had a great time. They were extremely brave as the activities were all outside, well done year 1!
Street dance
Street Dance
Elevate, a local dancing company, have been working with every class in the school since September 2014. There have been some amazing performances and dance offs between the classes and the children have enjoyed every second of this experience. Elevate may be returning at some point next year.
Orienteering
Orienteering
Children participated in the next Orienteering competition, they did very well. Year 5s were having their first experience of Orienteering and they did a fantastic job. All children had a great time even in the cold!
Orienteering
A group of 10 pupils from year 5 and 6 made their way to Hare Warren to take part in an Orienteering competition. The children did well and are excited for the next competition!
Football
Girl's football
The year 5 and 6 girls played very well in the football fixture. They defended well and played as a team. They were finding space and using tactics to help them each game.
Football Fixture
Miss Edwards and Mrs Bradford took a team of 9 boys to a football festival on Thursday and were very proud of their team spirit and 100% effort. They all played fantastically well with several goals being scored and a super penalty that was taken by Owen C! A brilliant afternoon and they came 3rd overall - well done boys.
Well done Football team!
A team of 8 pupils from Years 5 and 6 went to a football tournament on Wednesday 1st October at the Laverstock and Ford Social Club site. The atmosphere was of a great team spirit and they all competed to a high level. They played many games against other local schools (15 schools took part in total) and all players enjoyed the opportunity to take part and felt they did their best. Great effort!
Gym Festival
Seven children from Years 3 and 4 took part in a Gymnastics Festival last Thursday at St Edmund's Girls' School in Laverstock. They completed a round robin of activities such as; handstands, trampoline jumps, rolls, balance beams and routines. The children tried very hard and gave each activity a 100% effort. The children had a great time learning new skills and challenging themselves whilst meeting other children from local schools. The festival was a fantastic experience and enjoyed by everyone.