M and M visiting theatre company
On Friday 23rd March we were extremely lucky to have a visiting theatre company performing Pinocchio for our school. It was a fantastic performance with music, dancing and lots of laughs! We also had some special guests dancing in the performance which you can see in the video below!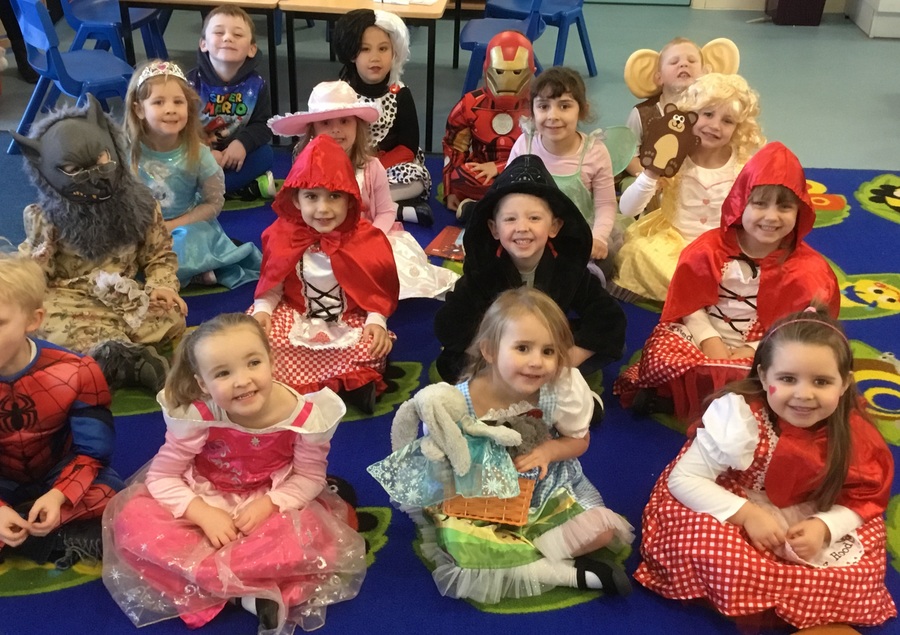 Old Sarum Primary School Book Day
We had a great book day, celebrating books we love and dressing as our favourite characters. The day was full of dragon adventures, with a visit from the author and illustrator M.P Robertson who told us all about his books, showed a video of his pet dragon and showed artifacts from his top secret dragon collection!
Throughout the day Mark Robertson taught children in years One to Six how to draw amazing dragons! He also spent time in Reception reading some of his fantastic stories.
Some of us found a nest with dragons eggs and later in the day they hatched! We saw on a video clip that showed us dragons had been flying around the classroom at lunch time!
Other children invented their own unusual pets and wrote character descriptions, some wrote stories about dragons and others fact files about them. A great day and fantastic learning was had by all!
Official opening of the new building - January 2018
Old Sarum Primary School is delighted to announce that it held the official opening of its new building on Monday 29th January 2018. The building is part of a major £2.6m expansion project which will allow the school to double in size to 420 pupils. The two-storey, steel-framed building provides eight new classrooms, a studio and a technology room. A new drop-off zone at the south end of the school has also been constructed which will ease some of the traffic issues around the school.
Staff, governors and pupils from the school were joined by our special guest Dr Phil Harding (of Time Team fame) who also opened the original building in 2011, representatives from many of the companies that helped us to create our wonderful extension, Wiltshire Counsellors and officers and other members of our local community. It was a lovely event that has marked a special time for the school. Old Sarum was inspected in the autumn term and was judged by Ofsted as remaining a good school. This extension will enable the school to widen its curriculum and extend pupils' learning. '
Mosaic Project
We recently worked with David Bowers from Mosaic Madness to create two beautiful artworks, one for the entrance of our school and one for our new Key Stage Two building. All the children in the school had a chance to help with the designing and making of the mosaics. Thank you to our great PTA for funding the project!
Friday 8th September 2017
Social and Emotional Aspects of Learning
Today we began our SEAL theme 'New beginnings'.
This theme focuses on developing children's knowledge, understanding and skills in four key social and emotional aspects of learning: empathy, self-awareness, social skills and motivation.The theme offers children the opportunity to see themselves as valued individuals within their community and to contribute to shaping a welcoming, safe and fair learning community for all. Throughout the theme, children explore feelings of happiness and excitement, sadness, anxiety and fearfulness, and learn shared models for 'calming down' and 'problem solving'.
Below are the examples of the activities children have completed in their classrooms.
Welcome
Welcome to the Old Sarum Primary School website.


On behalf of our staff and governors, I would like to welcome you to our happy community school.
We are dedicated to giving every child the highest standard of education possible.
'Emotional Literacy' is at the heart of our school's ethos. We believe all children should feel happy, valued and secure. This will pave the way for their success as lifelong learners and ensure good standards of behaviour and achievement.
All members of the school share a real sense of unity and commitment to serve our growing community and welcome opportunities to work with other groups from within it. We are very proud of all we have achieved in our first five years.
Mr John Jones BA (Hons) PGCE. MSc. NPQH
Headteacher

Kiddi Galore breakfast, after school and holiday club operate at Old Sarum Primary School every day of the week.
For more details about Kiddi Galore services -
Email: info@kiddigalore.co.uk
Tel: 01722 322179
Website: www.kiddigalore.co.uk
Latest School Events
YR Show and Share Session for Parents

22

May

2018

2:45 pm - 3:15 pm @ Classrooms

Come and have a look at what the Reception children have been doing

Non-uniform Day - Bring a Bottle!

25

May

2018

Tennis event for selected pupils

06

Jun

2018

@ Riverside Tennis Club

New Reception children Rhyme Time

06

Jun

2018

2:45 pm - 3:10 pm @ Reception Classrooms

New Reception children Rhyme Time

07

Jun

2018

2:45 pm - 3:10 pm @ Reception Classrooms