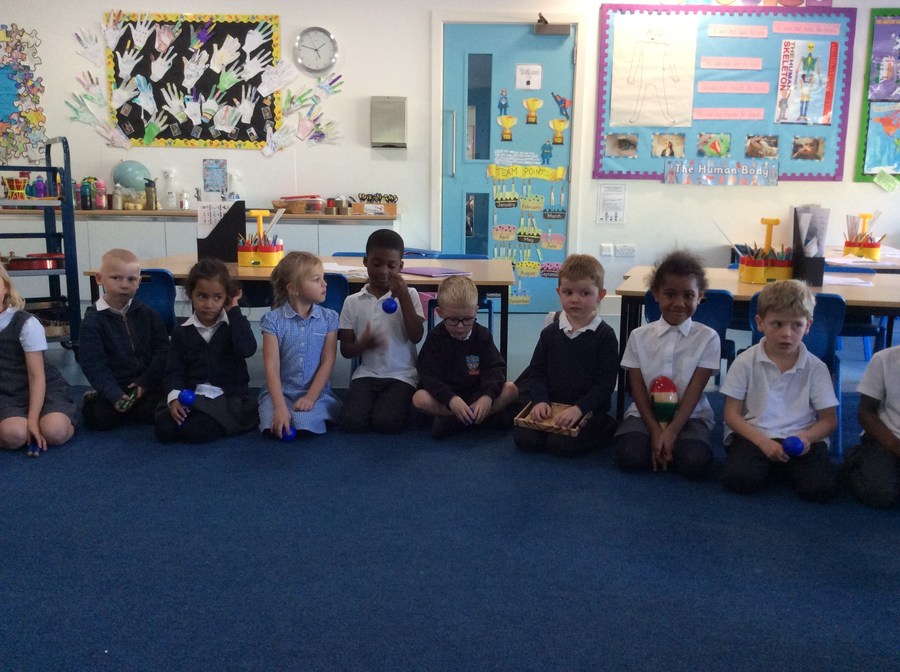 Primary Live 2018
Our school choir will be taking part in the primary live concert at the city hall on Tuesday 27th March. We have had workshops from singing coach Petra Randall teaching us all of the songs we need to know for the concert. This year the theme is 'Movies' including songs from Shrek, James Bond, Robin Hood and Breakfast at Tiffany's. The children will have the opportunity to perform with a live orchestra alongside 500 children from Salisbury schools.
Entertaining our Zambia visitors!
This April we were extremely excited to share the music of Old Sarum Primary School with the visiting Zambian teachers. The whole school greeted the visitors into our welcoming assembly with one of our favourite songs 'This is our school.' This was followed by our year 3 class performing an exciting repertoire of recorder music that they have learnt so far this year. We finished of our welcoming assembly with a song to set the mood for the week - 'H.A.P.P.Y'.
Also during their visit, Hawk Class invited the teachers to come and join in with a music lesson. We had great fun showing the teachers our vocal warm ups and taught them some of the funny rhymes we use to improve our diction and breathing techniques.
On the Wednesday we had a choir assembly. The school choir performed a selection of African songs and the whole school joined in with another school favourite which really showed the visiting teachers the enthusiasm and talent the school has for singing.
We really enjoyed sharing our music with the Zambian teachers and we hope that this contributed to the memories they have taken away from our school.
Spring Term Music at Old Sarum
Primary Live
On Tuesday 4th April 2017 our school choir took part in the Primary Live event held by SAYM. The children were very fortunate to have Petra Randall come into school on 2 occasions to deliver a singing workshop. This prepared them for a concert at the City Hall. The children performed a medley of African songs with the backing of an orchestra. This was a fantastic opportunity for the children and we hope to be involved in this again next year.
African Drumming Workshop
On Friday 3rd March 2017, Alex Miles came into the school to do an African drumming workshop with all of the children in the school. This was in keeping with our schools' focus of Zambia this term. The day began with all of the children coming into assembly to see the sorts of thing we would be doing throughout the day. All of the Old Sarum staff shocked the children with their drumming abilities in a performance!
Each class then had a session learning a variety of skills with African percussion. This led to a whole school performance by the end of the day where all the children came together to perform what they had learnt that day.
All of the children and thoroughly enjoyed this day. We would like to thank Alex for a memorable day at Old Sarum Primary School!
Autumn Term Music Events
Spire FM's Sleeps till Santa
St Thomas' Christmas Tree Festival
Performance at the Avonbourne Care Home
Christmas Showcase!
KS1 Nativity
Instrumental Lessons
At school we currently offer piano lessons with Miss Dawn. These take place on a Monday afternoon during school time.
Children also all learn to play the recorder in Year 3 and are very lucky to have a music specialist visit the class to do this once a week.
On a Wednesday lunchtime we offer an ocarina club to Key Stage 1 children. An ocarina is a small wind instrument which is a fantastic stepping stone to learning a recorder. Children have the opportunity to sign up to this at the beginning of each term.
We also offer a Key Stage 2 choir on a Monday lunchtime. Our school choir often represents our school at local events and is at the heart of the musical life at our school.
If you are interested in any other additional instruments that are not stated above, please inquire at the school office or directly to myself.
Miss Pepperell
Keep checking this page, performance videos coming soon!